This weekend we have been mostly getting to grips with our garden shredder. It was kindly gifted to us via www.freecycle.org and it's fabby.

Look, isn't it purty




Unfortunately it didn't have a catcher bag with it, so we've utilised a builders merchant bag (borrowed from the neighbours ;))




We're using the ground chippings as mulch, the first batch went onto the garlic bed as some little weedies were making theirselves known.




Meanwhile, I did some thinnings on the huge amount of growth in the greenhouse, before on the left, after on the right.




There are some seedlings coming up in the miscellaneous tub (I forgot to label the stick :( ) My bets are on aubergines tho ;).




The cucumbers are sprouting :)




Basil seedlings are potted on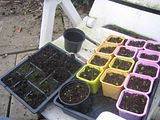 The over-wintered Habanero has decided to start fruiting early.





Garden progress outside was halted by possible wasp invasion...after a bit of internetting, it was discovered they were Mason bees. Very useful in the garden for pollenating, unable to sting..and Mason is our surname...so they get to stay as part of the family.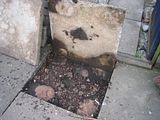 Taters! The Roosters are coming up, no sign of the Charlottes yet but no rush for those :)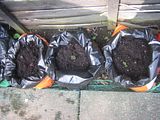 Wood pigeons keeping an eye on where we were weeding.




Gratutious Abi and Daddy shots, just because...