Been a busy weekend :)
We measured out the garden and have decided on four raised beds, leaving one spot for either another bed or for a green cone composter. Also digging out one existing bed, and creating a smaller bed round the side of the greenhouse for peas and stuff.
I've ordered the polythene to 'reglaze' the greenhouse, and some other sundries (plant labels, spare gloves (for the OH ;) ), kneeler cushion, watering can etc. All cheap as chips from
www.thegardensuperstore.co.uk
.
We've also ordered a second 330 litre compost bin through
www.recyclenow.com
, using the local authority discount.
OH is picking up the wheelbarrow for me this week from
Argos
.
We've compared a lot of raised bed prices and types, and have decided to order from
www.wigglywigglers.co.uk
. (By the end of this month hopefully)
Also found a decent supplier for organic top soil http://
www.dandystopsoil.co.uk
/ we'll be ordering a tonne of that for the end of the month I think.
I've also planted out some garlic, just using some cloves that were going to waste in the house. (Leftover from the wedding reception in August). So fingers crossed that will take :)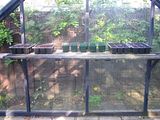 Next weekend, we'll be removing the broken glass from the greenhouse, polythening and other pottering type things :)