Well, today the weatherman lied! It was supposed to a sunny dry but a little bit cold day, it turned out to be a blustery, freezing, random showery day.
But we got the work done regardless.
4 beds in, one bed dug over and a greenhouse bed created. Also one of the compost bins emptied, mostly used and the rest chucked into the other bin.
The compost bin has been working better then I ever thought it would, we started it off as just somewhere to put food waste so we weren't throwing so much out. We never thought we would ever be gardening, hehe. It's worm city out there, and the slugs have vacated the premises since I've been chucking my coffee ground out there too :)
Planted out the garlic into one of the beds when we were done too, just because they'd exceeded my expectations and were already getting too big for their little pots.
It looks fab out there, should get some good wet weather over the next few days to 'bed' the soil down a bit.
We put the wood together, dug out the bed around it, turned the turf over, added a layer of newspaper, a couple of barrows full of topsoil, some compost from our bin then some more topsoil. All raked in and firmed down a bit, not too much because it was getting so wet out there.
Pics below
Greenhouse bed being prepared, there was a ton of gravel chucked down over some fabric that all needed removing.

The turf being lifted from outside. It was amazing how much moss there is instead of grass, we're going to have to get some lawn sand sorted for it I think.





Hubby putting the beds together.


Abi's discarded wellies, it was too cold for her outside so she had some biscuits, juice and the Disney channel.



Beds in progress




Tea Break!!




Greenhouse bed starting to take shape.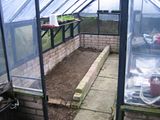 More outside action.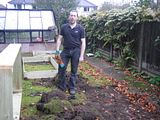 Compost Cake!! Nectar cards are not compostable, apparently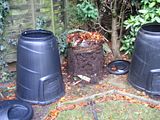 One completed raised bed!




Look, there's another one! ;)





Showing the newspaper lining over the turf.







Garlic being planted out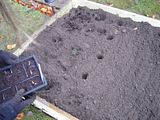 Finshed greenhouse bed




Outside raised beds!! Ta Da!!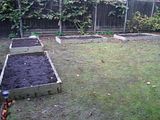 One solitary chive plant in my greenhouse bed. Moved here because it was an outside plant whose space has been stolen by a raised bed ;)