Although we're both atheist, we enjoy the family aspect of this time of year and look forward to the Winter Solstice. We put up a small tree with some twinkly lights, we're collecting baubles over the years - little ornaments that mean a lot, and we eat an awful lot of food. (More on the food in the cooking blog soon ;) )
However, my husband and I don't like spending money on 'stuff'. We're a single income household who like to live as well as possible, so there generally isn't a lot spare or extra. Most of our xmas presents for others this year have been covered by making hampers of our home-made produce. Our children aren't that huge a fan of my chilli chutney yet though ;)
So this year, we've done the ubiquitous 3 for 2 from Boots using up points obtained from baby items over the last year, recycled some of Abigails toys from the last year for Toby, and scoured Ebay for something special for Abi.
This was the result of my bargain hunting.
Lovingly painted by it's previous owner in barbie pink emulsion.
It comes with lots of furniture and some dolls :)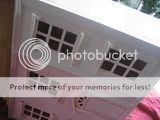 .......
More to come