Well, so far so good with the tomatoes. There are some that are definately healthy and ripening
Others are a bit soggy
But they're easy to spot so we're removing them as they go. Fingers crossed :)
The cucumber plants that we were going to throw away have decided to have three more fruits on so we're leaving them.
Strange to think a plant in this poor condition
Has these growing healthily on it
They've had a good pruning and a feed now :)
My giant squash plant is surprisingly becoming a giant plant, with squashes growing on it ;)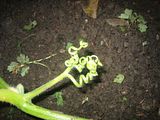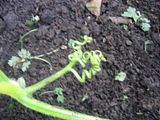 The red chillies are fruiting well now, with a lot of pruning to get rid of the Aphid damaged leaves :(
My red onions grown from seed are all ready for lifting but will be left for another week or two.
My lovely green cone, we had this delivered two weeks ago. Cost a grand total of £7.50 including delivery and installation from
www.greencone.com
, due to a council incentive scheme. Pop in your postcode and see if you get a fab discount too.